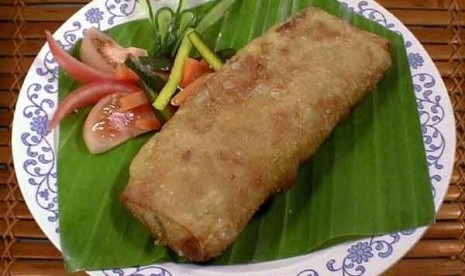 Lumpia or spring roll ia a kind of snack originated from Semarang. (ilustration)
REPUBLIKA.CO.ID, SEMARANG - The making of 465 meter fried lumpia (spring roll -Ed) to celebrate the anniversary of Semarang on Sunday morning breaks the Indonesian World Record Museum (MURI). "At first it was only 450 meters. But our target is 465 meters. We then added it until reached 469 meters. But we only counted until 465 meters, as the age of Semarang," the Deputy Manager of MURI, Ariyani Siregar, said on Sunday.
The making process of lumpia was started on 06.00 at local time. It needed 980 kilograms of bamboo shoot, 15,000 spring roll skins, and five frying pans.
After being fried, the spring roll was set on top of a table from DP Mall until Amaris Hotel. The idea is initiated by Association Event Organizer Company (AEOC) and then welcomed by Indonesian Chef Association (ICA).
"It was cooked by 285 chefs from Semarang, Bali, Makasar, Bandung, Bekasi, Jakarta, Yogyakarta, Salatiga, and Magelang," the Chairman of ICA Central Java-Yogyakarta, Fajar Subeni, said.
The spring roll then sold to people using coupon. It was 10,000 IDR for every 25-cm spring roll.