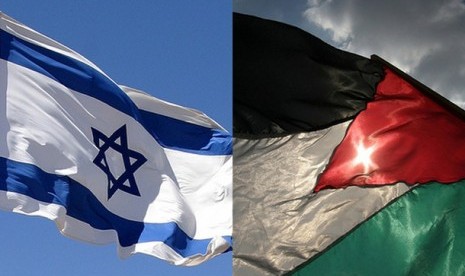 Israel-Palestina/ilustrasi
REPUBLIKA.CO.ID, NAJAF - Pasukan Israel menghancurkan sebuah desa Baduin, Al-Araqib pada Senin (23/4). Penghancuran terhadap desa Baduin ini adalah ke-37 kalinya dilakukan pasukan Israel.
Pasukan Israel meratakan semua bangunan milik suku Badui sehingga hanya tersisa sebuah masjid dan pemakaman saja. Usai perobohan gedung dan bangunan, warga Palestina pun berjanji akan segera membangun kembali tempat tinggalnya.
Seorang pejabat politik Palestina dari Popular Front for the Liberation of Palestine (PFLP) Ayman Odeh yang menyaksikan pembongkaran itu mengatakan, warga jangan sampai meninggalkan desa.
"Jika pemerintah Israel mengetahui tekad rakyat Palestina untuk tinggal, mereka akan berpikir kembali untuk membongkarnya, katanya.
Israel mengklaim desa Al-Araqib, bersama dengan 34 desa Badui lain di Najaf, dibangun atas tanah milik pemerintah Israel. Sedangkan warga Baduin dari desa Al-Araqib menegaskan tanah mereka adalah tanah leluhur yang telah diwarisi dari generasi ke generasi.
Sebelumnya pada November 2011, Israel juga membuldoser empat rumah warga Palestina suku Baduin. Pasukan Israel membuldoser bangunan dan mengusir 30 orang warga desa Beit Hanena Al-Tahta, di Ramallah Selatan.
Inilah video bukti kebiadaban Israel terhadap warga Palestina: